Printed Circuit Board Assembly - PCBA
Our electronic manufacturing service (EMS) offerings are world class quality which includes PCBA services.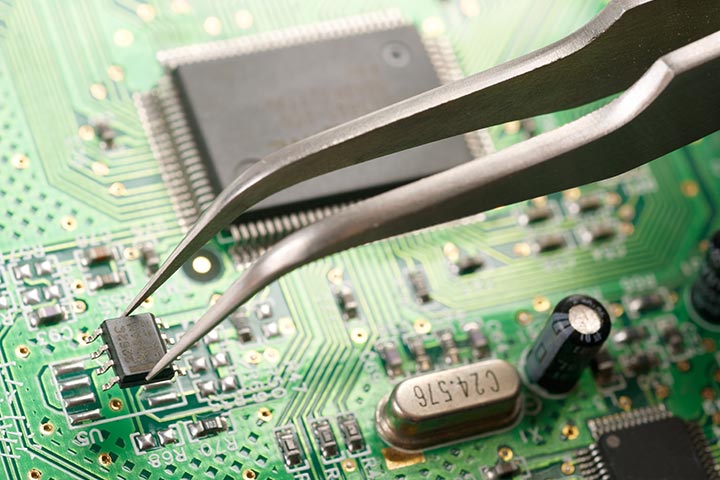 RPC produces a variety of printed circuit board assembly types: simple, typical, complex
We offer the option for circuit board component kitting so you can buy only the components you need
We handle any quantity: prototype PCB, short runs, up to large production runs of 10,000 or more
We have robust SMA capabilities thanks to our state of the art Samsung surface mount placement line which offers the following:

Capable of 40,000 placements per hour
Surface mount sizes start at 0201
BGA sizes range from micro to 2×2 inch machine placed
BGA repair equipment
X-ray
Flex/rigid circuits

Special capabilities: Plated through-hole technology, no-clean and aqueous cleaning processes, conformal coating
Our experience is anchored in aerospace electronics, medical, military, and commercial clients but we serve any industry
We can competently accommodate all phases of our customer's production requirements:
Printed Circuit Board Assembly Prototypes: Our experienced team provides quick, accurate quotations, including worldwide material procurement and assembly of any complexity. Our complete manufacturing design review assures that prototype PBC are ready for production after verification.
Initial Production Run: Our staff stays in close contact with you to answer any remaining questions and to refine all test procedures to your exacting standards for any project including PCBA.
Subsequent Production Runs: You benefit from reliable, cost effective production orders, fully coordinated on our end to exceed all your expectations.
Certifications/Compliance
Trainer Certified, IPC-A-610 and ANSI J-STD 001
ISO 9001:2008 Compliant
J-Std Class 1, 2, 3 Compliant
RoHS (Lead Free)
WEEE Compliant
REACH
ESD 20.20
Our skilled team is ready to help make your printed circuit board assembly experience professional, efficient and worry-free.
Contact us
today to learn how we can take your PCBA or prototype PCB work to the next level.
We can solve your manufacturing challenges.
Get started today!
Examples of our Printed Circuit Board Assemblies