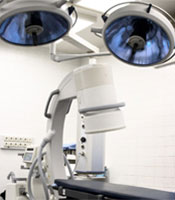 Due to the critical nature of medical applications, products used for medical equipment and electronic manufacturing service within the medical industry must, of necessity, hold to the highest standards of quality, accuracy, and dependability. When it comes to electronic manufacturing of printed circuit boards and other medical device components designed for use in the medical field, this is a prevailing truth.
Nowhere else is it more important for a product to be manufactured with precision and attention to detail, enabling that product to perform reliably and maintain its integrity under demanding requirements.
Electronic Manufacturing Service
At RPC Manufacturing, as medical equipment manufacturers, our electronic manufacturing services understand and adhere to the specific demands and requirements for items built for use in the medical industry. We have decades of experience producing world class printed circuit boards (PCBs) for the medical industry. We are specialists in electric/electronic manufacturing and assembly services (EMS), so whatever your manufacturing challenges may be, we can solve them for you. We produce all types of printed circuit assemblies, from the simple to the complex, and can handle any quantity up to large production runs of 10,000 units or more.
As medical equipment manufacturers, we know how strict the FDA regulations are for the medical industry. Our electronic manufacturing service has a rigorous quality standard to help assure you of full compliance with these regulations. We diligently ensure that the medical device component assemblies we produce either meets or exceeds medical technology requirements, and our growing list of satisfied customers attests to our success in this area. We have worked hard to earn our good reputation in the field of electronic manufacturing and assembly services, and maintain it by continuing to focus on helping customers like you do what you do best.
Medical Device Component Manufacturers
Not all medical equipment manufacturers have the specialties that we have with RPC's electronic manufacturing service. We specialize in box and panel builds, printed circuit board assembly, PCB component kitting, component modification, wire harnesses, and custom cables. By zeroing in on handling the intricacies of procuring raw materials like wiring components, assembly, testing, and order fulfillment, we free your team up to put your talents, time, and energy into sales, developing new products, and growing your company. We consider your success to be our success.
For more information on our medical device component manufacturing or how our other services can help your business, request a free quote, contact us by calling (303) 417-1500.